Company Registration
Is your company name available

Click here for ASIC Guideline on names unacceptable for registration
Information
Australian Business Number
Director Id
Why Us
Frequently Asked Questions
Online Company Registration -
Cost $650 including ASIC fees $538
Order Now
We instantly automatically generate all legally required documents & incorporate your company and email it to you.
Once you lodge your application, you will receive the following in your email instantly:

an ACN (Certificate of Registration)
Company Constitution
All other legal documents that you require to set up your business

ABN/TFN/GST/PAYG confirmation (optional – see ABN Bundle pricing)
Company Registration pricing -

$650 (incl. GST)

- Our fee

$112

and the ASIC fee

$538

ABN Bundle pricing -

$14 (incl. GST)

(Free Introductory Offer)

– ABN, GST, PAYG Withholding Registration (optional)
Print Bundle Pricing -

$65 (incl. GST)

< 20 minutes to complete the registration
Documents written in simple and easy to understand language by Batallion Legal – a boutique law firm based in Sydney
Money back guarantee
Australian Business Number -
Cost $14 Incl. GST
(Free introductory offer)
Order Now
We can lodge your ABN and/or GST and PAYG Withholding applications (ABN Bundle) with Australian Business Register (ABR) 24/7.
Our charges for the ABN Bundle are $14 (Incl. GST) (Free introductory offer).
All you need to do is, while filling out the form for company registration, select ABN bundle option, provide few additional details and your ABN, GST and/or PAYG withholding applications will get lodged simultaneously with your company application.
Our single user form makes it extremely easy to fill out and lodge all your required applications in a single click to relevant authorities.
Please find the information handout from Australian Business Registry Services (ABRS) along with the webinar recording on Director ID regime
2. Director ID - Information handout from ABRS
What is a Director Identification Number (DIN)?
The Director Identification Number (Director ID / DIN) is a 15-digit unique identifier that a director will apply for once but will stay with a director for life, offering greater identity security. You will need a director identification number (Director ID / DIN) if you're a Director of a company or a corporate trustee of a self-managed super fund (SMSF) or a trust, registered Australian body, registered foreign company or Aboriginal and Torres Strait Islander corporation.
Directors will only ever have one director ID. They'll keep it forever even if they - change companies, stop being a director, change their name, move interstate or overseas. The objective of having a Director ID is to create a fairer business environment by helping prevent the use of false and fraudulent director identities. This will go a long way to better identifying and eliminating director involvement in unlawful activity.
How can we help you to update and store Director Ids?
You can now add Director IDs to your Company Registration Order on our form. This will help you to update and store Director IDs for existing or newly appointed Directors while you register a new company. This field will remain optional during the transition period until 4th April 2022.
The Director ID field is added on the Director / Shareholders Profile page. Along side is the presentation handout from the ATO for your ready reference.
Any Director ID updated by you will be stored in our database and will help you save time by auto populating the Director information on the form during your next company registration for the same Director ID.
Currently there is no accessible database to any parties by ABRS. Directors will need to apply for their Director ID themselves and during this phase, its their discretion to provide their Director ID number to you.
How and when to apply for Director ID / DIN?
Directors will be able to apply for a Director ID from 1 November 2021 on the new Australian Business Registry Services (ABRS) online at www.abrs.gov.au/director-identification-number/apply-director-identification-number and log in using the myGovID app to complete the application process. Furthermore, they will need to provide proof of identity documentation to verify their identity. A director can choose to provide their tax file number when applying for a DIN, which should expedite the application.
Directors will need to apply for their director ID by themselves to verify their identity. No one can apply for it on their behalf.
It's free to apply.
When will directors need to apply?
Transitional arrangements will allow directors to become familiar with the new requirement. When you need to have a director ID will depend on when you were appointed as a director. The table below illustrates the same in detail.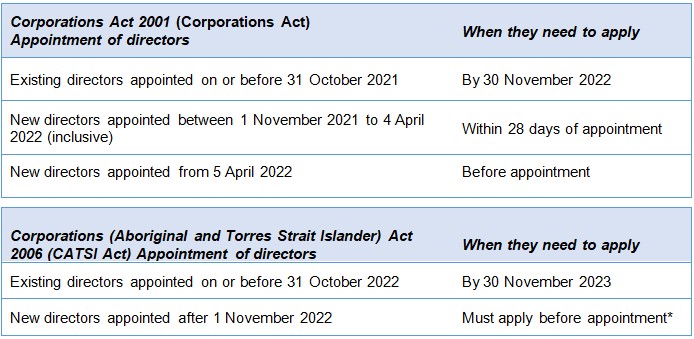 How can agents assist their impacted clients?
As a trusted agent or adviser, you can provide assistance to your clients by guiding them on the verification and application process, including if your client is required to get a director ID.​ You can support your clients by:
letting them know about the new requirement, when and how to apply
​Your clients will need a myGovID with a Standard or Strong identity strength to apply for a director ID online. If they don't have the myGovID app they can set it up at www.mygovid.gov.au/setup
They will also need to verify information held on their ATO record, such as a Notice of assessment. They may need your assistance with finding this information. Once they have this information, the online application is intuitive and takes less than 5 minutes. They will get their director ID instantly.
They then need to give their director ID to the company secretary and their tax or ASIC agent.From 5 April 2022 all directors will need a director ID before they are appointed. We suggest you make this part of your checks when registering a company or appointing a director for your clients.
Why you need a director ID?
All directors are required by law to verify their identity with ABRS before receiving a director ID. This is important because it will help to:
prevent the use of false or fraudulent director identities
make it easier for external administrators and regulators to trace directors' relationships with companies over time
identify and eliminate director involvement in unlawful activity, such as illegal phoenix activity.
How will we use your Director ID / DIN?
You can store Director IDs for newly appointed or existing directors at the time you register a new company. So, the next time when you input the stored Director ID for registering a new company, our system will auto-prefill the Director's information associated with that Director ID making it easier and faster for you to register a company through us.
Our one wizard form, with interactive features and hints, completes all applications through a single form, saving both time and money.
ASIC approved Registered Agent 26943
24/7 lodgement services as we are directly connected to ASIC servers
Online Storage - You can manage all your legal documents on our smart document retrieval system. All documents are stored on our website for ever, secured by your user name and password, for future downloads
Decades of experience in company formation
High Quality Legal Documents
Express Print and Delivery Service (optional)
Free Online and Phone support from highly experienced professionals
What type of company can I register?
You can register a proprietary Limited company (most commonly used legal structure) by filling up our easy online form with clear hints and tips to help you at every stage of the application form. You can also register a proprietary company to act as a Trustee of a SMSF.
Do I receive all documents instantly?
Once you submit the form, you will receive an instant confirmation and a full set of documents including ACN, company constitution and all other legally required documents to start your operations.
What do I receive once registration is completed?
You will receive below set of documents as part of your company registration. We are directly connected to ASIC so all documents are emailed to you in real time as soon as the form is submitted.
Australian Company Number ("ACN") - An Australian Company Number is a unique nine-digit number issued by the Australian Securities and Investments Commission to every company registered under the Commonwealth Corporations Act 2001 as an identifier.
"Certificate of Incorporation" of your company - The Certificate contains, among other information, company name, ACN and date of registration of your newly formed company.
Company's constitution (up to 20 classes of shares) and all necessary legal documents you will ever need for your newly formed company register, (including special constitution for SMSF trustee company);
Clear instruction sheet on "what to do next" to register your newly formed company with ATO and how to open bank account etc, prepared by a CPA firm and Registered Tax Agents who have over two decades of experience in setting up tax structures for clients.
How much does it cost to register a proprietary limited company?
Cost $ 650 (incl. GST) - Our fee $ 112 and the ASIC fee $ 538.
Can I choose any name for my company?
Yes, but within the prescribed guidelines from ASIC which includes, among other terms, that the name must not be identical to a company already registered or a registered business name. There are also restrictions on certain words. More information about rules regarding a company name can be found here Choose a company name
Can I get the documents printed and delivered to a physical address in Australia?
You can order printing, binding and delivery of your complete company documents set for $65 (Incl. GST). Our print bundle offers excellent value for money. We deliver documents in a premium quality leather feel compendium with tabs for all documents. We use premium courier service provides to ensure quick and safe delivery. All orders placed before 10 AM get delivery on the same day if located within the Sydney metro Area. Australia wide city orders placed between 10 AM to 3 PM get delivery the following day.
Can I order Shelf Company on your website?
A shelf company is company which has no trading history and is usually register by service providers to later sell it. If you have a business requirement to show you have been in business for certain period of time then it is ideal for you to order a shelf company which is incorporated in prior years.
Click here for Shelf Companies for sale
How do I place my order on your website?
Before you place the order, you have to register on the website. The registration process is very simple and requires basic details to complete and it is free - Click here to register. The process to register an Australian Company, takes less than 20 minutes .
You should register on the website by clicking on "Register Now" on the home page.
You shall receive a welcome email with your login user name and password. This is confidential information and should not be shared with anyone to keep your account safe.
You can enter your login details to log on to your secured area (protected by your user name and password) on our website; all company legal documents are created with answers from you to our online cleverly designed easy questions.
All questions come with clues to answers and explanations. At completion and after payment and lodgement with ASIC, we email you, your newly formed "Certificate of Incorporation" from ASIC and company constitution and other tailored company documents for your company register.
All legal documents are instantly emailed to you.
Is my company automatically registered for ABN and TFN?
No, lodging your application with ASIC does not mean automatic registration for ABN and TFN. We provide optional service to register your company for ABN/TFN/GST and PAYG Withholding for an additional fee of
$14
(Free Introductory Offer)
where we will pre-fill the online ABR application form for you and save you over half an hour of your time. Alternatively, you can register for ABN/TFN/GST and PAYG online at www.abr.gov.au for free. We have also provided an application form in the document package for offline registration for ABN and TFN.
ABN/GST/PAYG Withholding
What is ABN?
Australian Business Number (ABN) is a unique 11 digit number that identifies your business or organisation to the government and community. If you are running a business you will need an ABN. When you have an ABN you can:
register for GST and PAYG withholding (tax from employees / directors wages)
get an AUSkey to transact online with government agencies
What is included in the ABN bundle?
Our ABN bundle package includes:
a certificate of ABN registration issued by the Australian Business Register;
Tax File Number (TFN) for the company which will be sent to the company's nominated address for service and receipt of notices; and
the ABN (and/or GST and PAYG Withholding) will appear on ABN Lookup
How much do I have to pay for the ABN Bundle?
$14 (incl. GST)
(Free Introductory Offer)
Does my company need an ABN?
Applying for ABN is not mandatory. However, when you deal with Australian Tax Office you will need an ABN. When you supply goods and Services, you are required to charge Goods & Services Tax (GST) by law if your annual turnover is over $75,000. Also when you purchase goods and services, you pay GST, to claim or remit GST, you need an ABN.
Can I register for ABN/GST/PAYG Withholding as part of the company registration process?
Yes, we can submit applications for ABN/ TFN/ GST / PAYG withholding tax registration for your new company with Australian Business Register. We have designed our form in such a way that it pre fills most of the information for you thereby saving you time and ensuring accuracy by avoiding any duplication of data and/or information.
What do I do if my ABN is refused and I receive a reference number?
In some cases, if your identity or the identity of an associate cannot be verified or they may require more information, ABR may refuse the application and issue a reference number. The ABR will review your application within 20 business days.
If unsuccessful you will receive a refusal number which states the reason for refusal. You will also receive a letter within 14 days confirming your application has been refused.

Our Videos
CLIENT TESTIMONIALS

I have been a customer of Trust Deed.com for some time and I have always been impressed with their service. However, I am absolutely indebted to them for pointing out to me that I had made a typo when keying in the ACN of a newly incorporated company. Without this add on service which they provide, all the trust documents would have gone out incorrectly. Thank you so much.

Gail Freeman
FCA, Director
Gail Freeman & Co Pty Ltd (ABN: 57 008 653 683)

Thank You. Your service is quick and easy. I especially like the fact I can save unfinished documents and re-print finished documents that were completed quite some time ago. The review of documents by the legal team has proven on many occasions to be a life saver.

Dani
Dani Millynn CPA Pty Ltd (ABN: 76 108 913 506)
JOIN US
Learn how to grow your wealth and pay less tax.
Our Wealth Creator writers reveal the secrets of how to easily reduce tax and create more wealth. Once you learn these simple but ingenious strategies, it will be like giving yourself a 20% pay rise, tax free!
More Information
How to use our service?
Phone : 02 9684 4199
Email : sales@trustdeed.com.au
Our trust deeds
We will arrange for you to speak with Batallion Legal, free of charge
Specific legal advice
Batallion Legal will charge for this service. Please visit http://www.batallion.com.au
Register/Login Now
New User
To purchase anything from our website you need to register, once and for free.
Register Now
Existing User
Log in now to order a new document
Login
Propriety Company

SMSF Trust Deed

SMSF Borrowing

Actuarial Certificate

SMSF Related Documents

Trusts

Trusts Information

Property Tools

Jobs